Keep Your Gutters Clean with GutterStuff
Fits completely inside all makes and models of gutters and is completely invisible from below
Easiest self installed gutter filter on the market
Prevents mosquitoes from breeding in the gutter
Seals out leaves while allowing large volumes of water to flow through quickly
Suitable as coarse pre-filter for rainwater catchment and rainwater harvesting
Custom made from polyether outdoor durable foam Innovative and affordable protection
No other gutter cover, gutter guard or gutter screen system works as effectively to keep debris from entering the gutter.
Germicide and UV Protection Surface coating along with full coating. This provides UV protection andfire resistance.
Lifetime performance warranty
---
Browse GutterStuff Products
GutterStuff? Pro FR K-Style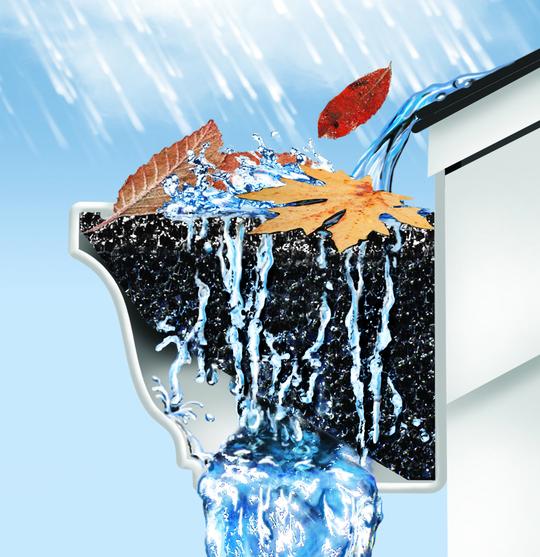 K-style gutters are the most popular gutter style with nearly 98% of homes using them. These kinds of statistics make it no big surprise that our 5? K-style gutter foam is the most popular size and style we make. K-style gutters are designed with a flat back and bottom with a decorative front that may resemble crown molding or the letter ?K?. K-style gutters can also be referred to as an ogee style gutter, but the design and ability to use GutterStuff as a protector against leaves, dirt and debris is the same.
Designed to be durable and easy to use, GutterStuff?s patented flat-bottom gutter foam holds its shape and protects your gutters from dirt and debris while still allowing water through.
GutterStuff comes in a variety of widths to discretely fill your gutter
Prevents mosquitos from using your gutters as a personal breeding ground.
Installation is quick and simple
GutterStuff is available in a variety of protective coatings to suit the needs of your home.
---
GutterStuff? Pro FR Half Round
Half-round gutters are the traditional gutter style for many, especially those with homes that were built before the advent of K-style gutters in the 1950?s. Half-round, also known as U-shaped, gutters date back to the early 1900?s and this traditional shape has lasted over one-hundred years due to its effectiveness.
Like every gutter, half-round gutters can get clogged by the collection of dirt, leaves and debris so we created a GutterStuff foam to fit and protect half-round gutters.
Half-round GutterStuff is designed to hold its shape and fit securely in the gutter without impeding water flow and a variety of coating options are available to suit you and your home?s needs.
GutterStuff not only prevents gutter blockage, it also provides a layer of defense to prevent insects and animals from making a home out of your gutters.
GutterStuff installation is fast, easy and can be completed without having to dismantle your current gutter system.
---
GutterStuff? Pro FR Fascia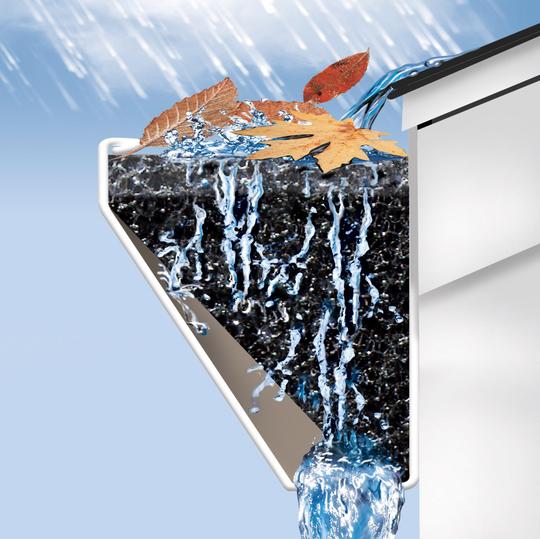 Popular in California and along the West Coast
Secured either to the timber fascia or can replace the timber fascia and be directly applied to the roof rafters.
Provide more customization options for homes and often have a high-fronted finish that conceals the edging of your roof.
Accommodate larger volumes of water than the more traditional K-Style and Half Round gutters.
Fascia GutterStuff can be custom cut to fit, is easy to install and has a plethora of coating options to provide the ultimate gutter protection.
Easy to install and generally only needs minor trimming to fit around support brackets.