---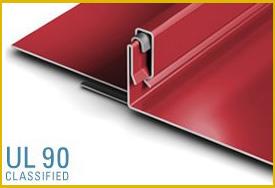 SNAP-CLAD metal panels feature architectural roofing panel aesthetics as well as structural metal panel performance. SNAP-CLAD panels, produced in continuous lengths, are corrective leveled to provide superior flatness and feature an optional factory-applied sealant bead for improved weather resistance. Maximum panel length is 64 feet and minimum panel length is 4 feet. SNAP-CLAD roofing panels feature a 1-3/4 leg height and a continuous interlock for improved structural performance and wind resistance. A concealed fastener clip system allows for thermal expansion/contraction.
---
Product Features
20 year non-prorated finish warranty
Architectural/structural roofing panel
Herr-Voss corrective leveled
Factory applied sealant available
Continuous interlock
Stiffener beads available
Striations available
Factory eave notching available
Labor-saving one-piece design
Maximum panel length of 64 feet - Check with local factory for longer lengths
Weathertightness Warranty available
---
Specs:
10, 12, 16 or 18 O.C.* 1-3/4 high *UL-90 rated 18 O.C. is not UL-90 rated in aluminum or copper.

Note: SNAP-CLAD has UL-90 classification up to 16 O.C. on .032 and .040 aluminum. See roof deck construction in Underwriter Laboratories roofing materials and systems directory.